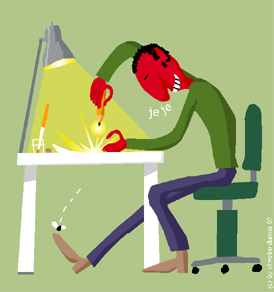 This is the blog of illustrator fictional, Oliveiro Dumas. Roel Sloperzë found that in the twin planet's surface weightless The Mondo of Oliveiro. In that planet, there is no form of life known. However, he found a lot of illustrations signed by Oliveiro Dumas.
Roel uses the pseudonym Oliveiro Dumas of these illustrations, preying on the Intellectual Property Law. It is at the end of the day, an outlaw.
However, it is a pleasure to enjoy such works where there is everything from rush fascinating mounts and detritus to absurd … And, who is this guy Oliveiro Dumas? It is a mystery.
Updated currículum wikipedia